10 big websites and apps built with AngularJS
We have already reviewed AngularJS – the best framework for single page applications and websites and today I'd like to share with you the 10 websites and apps (in no particular order) built with AngularJS. This might be a mixture indeed. Nonetheless, I discovered most of these through builtwith.angularJs.org.
AngularJS is a JavaScript rich framework, one of which being the fact that Google actively supports this and has a lot to offer in dynamic web apps without dependency on any other frameworks or plug-in. The framework powers the face of the web and mobile apps with growing community of volunteer developers.
More and more front-end web developers are now seeking Angular to develop next generation apps. It seems reasonable food for thought. With Angular JS is becoming widespread for creating news websites, e-commerce, and entertainment.
Keeping these in mind the use of Angular showed its popularity all the time. And not only that, companies like Godaddy, Walmart, NY Times, Netflix and YouTube are powered with the flexible and robust Angular JS framework on their sites.
Famous Web Applications developed with AngularJS
The Google community produce high quality and less time spent reliable products; Gmail has been breaking every other email service with its secure and less error-prone.
The modern version of Google email service deals with the one-page application built with AngularJS and other JavaScript frameworks. This new genre of web app relied on rich JavaScript logic and local data model which allowed many clicks within the browser without waiting for the server. The AngularJS developers faced new challenges to build three separate native apps to fit into the respective Target platforms, such as Android, the web, and iOS.
Walmart is the largest retailer - with 260 million customers, 11,500 stores under 63 banners in 28 countries in the world. Seems skyrocketed right? Yes, and today creating opportunity and bringing value to customers add an award to Walmart. AngularJS offered the best experience to their site and has some clean features.
No surprise there, though. YouTube is a video hosting and sharing portal bought by Google just after a year it came into existence. Essentially, it is a social network where individuals can view, post videos, comment on them, share videos to millions of users and join groups, etc. However, YouTube is available on a lot of devices and wants to be ubiquitous not only in a traditional browser but also on platforms such as PlayStation. And now it is not too surprising as YouTube is available on Sony PlayStation 3 (PS3) built with Angular.
Wow, this is more interesting - Netflix uses Angular in its tool for analyzing and monitoring the security of Amazon Web Service with the focus on data presentation with AngularDart.
Netflix is the world's largest internet streaming media on demand with more than 11 million subscribers. Started with its headquarters at California (United States) in 1997 and has grown fast. Netflix subscribers can watch their favorite movies anytime by streaming movies over the internet. Not only that but also it offers the latest movies and TV series by DVDs via Permit Reply Mail.
PayPal is another leading Internet payment company with online payments system available in 203 countries with 26 currencies. PayPal's large Checkout system such as:
Sidebar

Payment review page

Adding credit card page were developed using AngularJS.

Parent Page was developed by AngularJS.
Weather.com was launched in 1996 by The Weather Channel and American cable. This website was also developed using Angular JS. Weather.com gives you an efficient weather forecast and updates from all over the world in a precise report. According to SimilarWeb, weather.com is highly recommended and most visited weather forecast site in the world.
This big website was migrated to Drupal in 2014, using Symfony2 Components. However, developers have used AngularJS modules to receive the data for widgets.
The New York Times is an American daily newspaper by New York Times Company. AngularJS have blown up in popularity by hosting its technology to the most top website of The New York Times. It was mainly used to create a great data heavy API, leveraging the new data visualization. This takes an advantage for a single page application to fetch and display some information.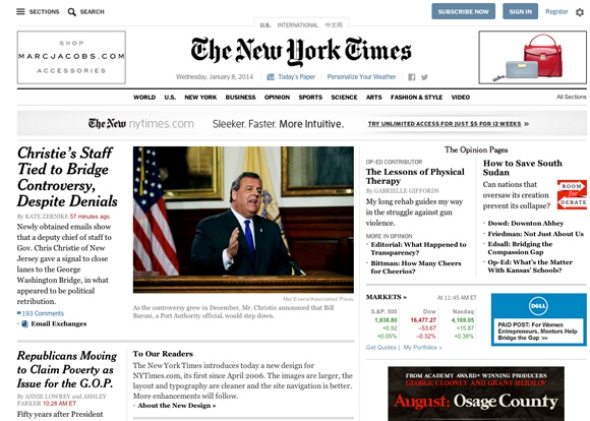 Vevo is the world's leading music website hosting 150 thousand video clips, expanding over 200 countries through a partnership with YouTube. It's one of those AngularJS big projects with a unique front end that offers more impressive website.
jetBlue is the most popular airline service in the USA – carrying 35 million passengers annually, and 900 flights operating daily, to 95 cities in the US. Jet Blue Airway Corporation was awarded "Best Airline Rewards Program" by US News and World Report. AngularJS has now opened up new gates for improving their web performance and it is quite impressive.
Localytics is a marketing platform for mobile and web app owners to build a strong customer relationship through their analytics. This service offering platform is used by 6,000 companies, like Microsoft, eBay, ESPN, and others. Localytics developers were previously using Backbone before they decided to move to Angular JS framework. And now their integrated approach to app helps users to deliver a more personalized experience. They believed Angular JS helped to solve common UI related problems and reduce the amount of code comparing to the previous framework.
Now that you've landed to the conclusion
Let me tell you, I've missed out a lot on the list like:
There are many sites and mobile apps that were built on AngularJS. After going through all of these you will realize the power of Angular and gained some inspiration to take on single page AngularJS application or multi-page AngularJS website.
You can let us know if you feel an urge to get acquainted with AngularJS. CodingMart develops projects using AngularJS and other modern technologies. And now, we will be happy to create one such winning website for your company.